You're Involved Every Step of the Way
- At Classic Touch, we welcome your participation.
Here's what you can expect:

Bring us your photo, sketch, or idea. We'll discuss your project, prepare an initial drawing, provide an estimate, & get your feedback. Please note: There is no charge for the shop drawing!

When you're satisfied with
the design, we'll work
together to choose materials, then get underway.

We'll meet again during the finishing stage, to discuss options, select colours and choose stains, lacquers
or other finishes.

Signature Pieces - Select Woods - Rich Finishes
From custom dining suites to hand-carved mantles, elegant armoires and sleek,
contemporary furnishing for boardrooms and public spaces, we build furniture
of exceptional quality, detail and durability.
Call us for your residential, corporate or commercial needs. We'll work from
your photo or drawing, or we will prepare a drawing for you.


Safe Stripping - Precise Colour Matching - Clear, Durable Finishes
Stripping – At Classic Touch, we use the environmentally superior "flow-over" stripping process. This no-dip method protects your wood, and prevents damage to glue joints.
Repairs – We can repair almost anything, including veneer, lamination, re-gluing of joints, and wood turning to replace missing or damaged elements such as table legs. Is it worth repairing? We will be pleased to provide an opinion.
Refinishing – We're proud of the quality of our fine, rich finishes. We offer a wide variety of stains, and use "fogged on" toner technology to achieve precise colour matching. When lacquer is required, we use a pre-catalyzed product that is durable enough for tabletops, but also provides the clarity and depth needed for fine furniture. Four sheens of lacquer are available, ranging from matte to gloss.
Using Layered Colour to Produce a Rich, Deep Finish
This method reproduces the character of the centuries-old "French Polishing" technique, which resulted from the use of orange shellac, and the development over time of the
"orange" character of the wood. It can be used on woods
of the walnut family.

1. "Sunset Orange" toner
2. Wiping stain
3. Clear sealer coat
4. "Fogged on" toner coat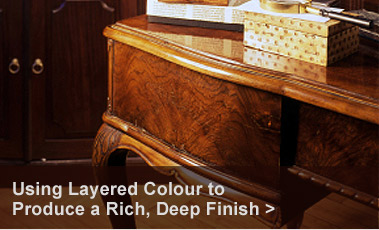 Cost-Effective Solutions for Your Large-Scale Restoration Projects
Call on Classic Touch for this hard-to-find service. We have developed systems that
allow us to strip large volumes of architectural components, quickly and economically. Typically, we receive materials transported to our shop, but we are pleased to arrange removal if required.
Some examples of refinishing projects:


Working to Your Specifications
At Classic Touch, we're accustomed to meeting your exacting requirements.
We offer:
Design Flexibility – Custom furniture building in any style, including contemporary, classic and traditional.
Full-Cycle Service – We produce installation-ready pieces, built and finished in our own shop. We do not out-source any of our services.
Professionalism, Value and Timely Delivery – We work within your budgets and timelines to create custom pieces of exceptional quality.